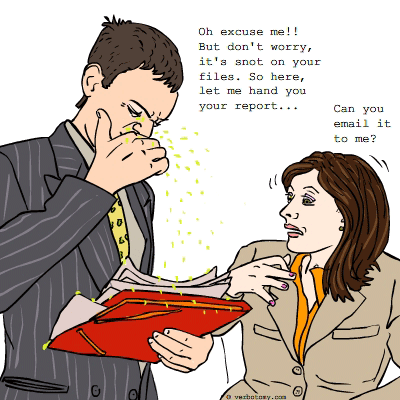 One of the benefits of working in an office environment is receiving a steady paycheck. I think we can all agree on that.
Maybe another thing we can all agree on is one of the most glaring detriments: Having to acquire a whole new herd immunity. I have no idea if this has ever been studied scientifically, but I can offer my own anecdotal evidence from almost thirty years of moving from one office environment to another at intervals of about two years. Each time I've made that move I've had to spend several weeks during the first few months sicker than a puking dog. All the antibodies I built up while working in the previous office seemed to be absolutely worthless in the new office.
My latest office environment is no exception. At my previous office I could, and frequently did, sit at a desk surrounded by people hacking up great gobs phlegm as if they were dying of tuberculosis. I worked there five years and I think I got sick once, maybe twice. In my new office, however, I'd been there just three days before I knew I picked up their particular strain of cube farm killer death flu.
"Got any plans for the weekend?" one my coworkers asked me Friday afternoon.
"Yeah," I answered, "I think I'm going to spend it sick in bed, using up all the Kleenex." And that's what I'm going to do. Luckily, I'm only halfway through an eight-hundred page history of the discovery and development of atomic power, so this will give me a chance to knock off a couple hundred pages a day. Also, I've got My Darling B, who says she'll make me some tomato soup. Atomic physics and some heartfelt pampering ought to make the next couple days bearable, even if I have to spend them half-dead.
I god a ruddy node
|
8:32 am CDT
Category:
daily drivel
|
Tags:
books
,
My Darling B
,
office work
,
sick as a dog
1 Comment | Add a comment
---